Let's walk together for people having cancer
Hello everyone,
My name is Minh (Suri) Pham and I am 7 years old. I think in 2 more weeks I will go to a walking trip. I will try to walk 21 kilometres. I will even go camping! I am doing this for the cancer people and to help them. People that have cancer  might die and I do not want that to happen because I want to keep them alive to be happy like us. 
You can look on the app that I have put my walking records to train for the trip. I only have like… 3 times by walking to school with my mum and sister in the morning but I'll do more this year! 

Thank you for the people that already gave me donations because you helped the people  and made me strong. You can come too! I would love it if you come. You can invite anybody if they want to go. If they don't want to go to the walking trip, they can donate me so my team can help too. 
And I want to tell you one more thing. I want all of you to be strong so you don't get sick. ( I am not talking about cancer). 
Thank you for reading my writing.
Your teammate,
Minh (Suri) Pham 
My walking challenge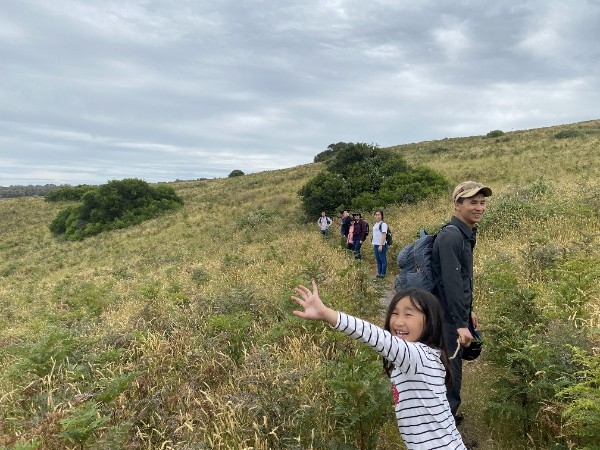 People that have cancer can die because of it. My grandpa, grandma, and uncle died of it and so all other people that have cancer might die too. So to help those people, our "Ahaha" team can donate money to help them and they can live a happy life like we do.
My name is Minh (Suri). I love walking outdoors with my family and my parents' friends. Even though I am only 7 years old, I can walk up to 18 kilometres! My next challenge is to walk 21 kilometres. I will have to be strong to encourage people that have cancer. And I think I can do it!
If you want to spread kindness to those people, you can join me or sponsor me at the link below.
Thank you for reading my writing! I hope to see you at our walking trip.
I'm walking to help people facing cancer
I'm shining bright for people facing cancer and walking 21km over one weekend with Walking Stars. 
Every year more than 35,000 Victorians hear the words 'you have cancer'.  
Thanks in part to generous Victorians, 7 in 10 of them will survive five years after a cancer diagnosis, but there's still so much work to be done.  
Cancer Council needs our support more than ever this year. Every dollar raised gives hope for a cancer free future. By supporting my walk, you're funding life-saving cancer treatments, prevention programs, and support services that ensure no one has to face cancer alone.